HYER Boots Sizing: Find Your Perfect Fit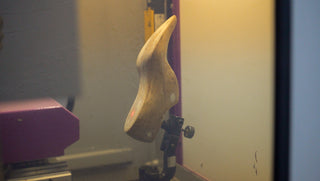 HYER boot sizing: A Journey Through Tradition & Modern Comfort
In the world of cowboy boots, one thing is for certain: the right fit can make all the difference. The perfect pair of HYER boots should feel like they were crafted just for you, offering unmatched comfort and support, especially when you're embracing the active Western lifestyle. At HYER boots, we take sizing and fit seriously, and our approach to achieving that perfect fit combines the best of old-world craftsmanship with modern innovation.
The HYER Legacy of Innovation
HYER Boot Company has a rich history dating back to the late 1800s when the cowboy boot was still in its infancy. Back then, there were no big shoe brands; instead, local cobblers and bootmakers were the go-to source for footwear. HYER boots, located in Olathe, Kansas, was at the forefront of this industry out of sheer necessity.
Kansas was a hub for cattle ranching, with the railroad ending in Kansas City for several decades. As Cowboys on cattle drives made their way through Olathe, Kansas, they required durable and comfortable footwear for their demanding work. The result was an abundance of footwear makers in Olathe, Kansas and HYER boots were among the most innovative.
The Era of Custom Boots
HYER Boot Company made its mark by introducing the concept of mail-order catalogs for cowboy boots. Imagine this: from the late 1880s to the 1920s, you could trace your foot on a piece of paper, send it in to the original cobbler shop in Olathe, Kansas, and HYER boots would craft a custom pair of boots just for you. This level of personalization allowed for a perfect fit that factory sizing couldn't match.
Finding the Perfect Fit: Then and Now
The cowboy boot landscape has evolved over the years, and today, we have access to factory sizing and standardized measurements. However, at HYER boots, we believe that the pursuit of the perfect fit should never be compromised. To achieve this, we embarked on a journey to find and preserve the original lasts used by C.H. Hyer himself.
We scoured our family archives and discovered approximately 3000 original lasts. From this treasure trove, we carefully selected the best 12 lasts to scan into a 3D scanner. These lasts serve as the foundation for our new boots, modified and perfected to provide the best fit in the modern world.
Understanding the Modern Foot
One significant change we've noticed is that modern consumers tend to have lower insteps and wider foot bases. Other brands have adapted to this trend by offering boots with wider heels. But how do you find the right fit with HYER boots?
The Importance of a "Last"
Before we dive into the art and science of boot sizing, let's start with a fundamental concept: the "last." So, what is a last, and why is it crucial in crafting the perfect pair of HYER boots? A last is a three-dimensional mold in the shape of a human foot, used by shoemakers and bootmakers to create footwear. Think of it as the foundational blueprint upon which every boot from HYER is built.
True to Size: A Myth of the Past
In today's world of standardized sizing and mass production, the term "true to size" is often thrown around. But here's a little-known secret: "true to size" is not a real thing, especially when it comes to cowboy boots. Unlike modern factory-made shoes, the history of cowboy boots was rooted in local craftsmanship and personalized fits.
The Brannock Measurement
When it comes to finding the perfect boot size, many people refer to the Brannock measurement as the gold standard. This device, invented by Charles Brannock in 1925, measures the length and width of your foot, providing a standardized size.
However, it's important to note that while the Brannock measurement provides a general guideline, cowboy boots from HYER boots are not your typical shoes. They are designed to hold you firmly on your instep, providing stability and support during various activities. This means that personal preference plays a significant role in determining your ideal fit.
Personal Preference and the Instep Hold
When fitting HYER boots, it's crucial to keep in mind that comfort and fit are highly individualized. While some prefer a snug fit, others may want a bit more room. However, one aspect remains consistent: you want your HYER boots to hold you securely on your instep. This ensures stability and support, especially when you're navigating uneven terrain or participating in Western activities.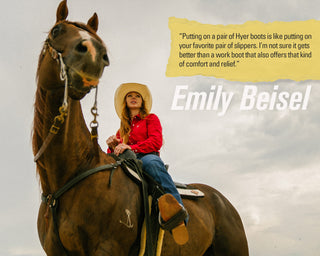 Measuring for Your HYER Boots and Achieving the Perfect Fit
Now that we've covered the history and philosophy behind HYER boots sizing, let's get down to the practical steps for measuring your feet and selecting the perfect pair of boots. We'll guide you through the process so that you can experience the unmatched comfort and support that HYER boots offer.
Step 1: Gather Your Materials
Before you begin, make sure you have the following items ready:
A measuring tape or ruler (if you prefer)
Socks you intend to wear with your HYER boots
Step 2: Find a Hard, Flat Surface
Select a hard, flat surface where you can comfortably stand while taking measurements. This will ensure accuracy in your foot length measurement.
Step 3: Measure Your Foot Length
Follow these simple steps to measure your foot length:
Measure the distance from the longest toe to the back of your heel. This is your foot length.
Step 4: Determine Your HYER Boots Size
Now that you have your foot length, you're ready to determine your HYER boots size. Use the measurements you've taken and our size chart to find your ideal size. Keep in mind that the ideal fit will vary based on personal preference, so consider how you want your boots to feel on your instep and overall.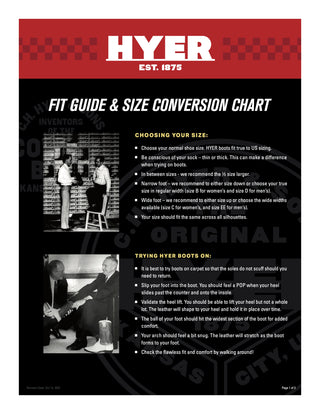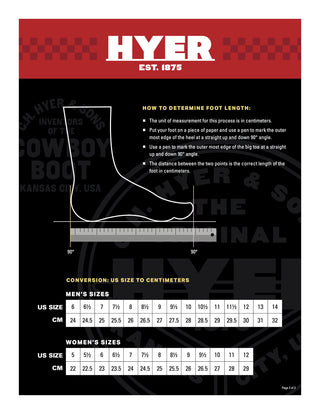 Step 5: Try Them On and Feel the Difference
Once you receive your HYER boots, try them on and experience the difference for yourself. Our dedication to preserving the legacy of craftsmanship combined with modern comfort means that you'll have boots that fit like no other.
"These are hands down one of the most comfortable straight out of the box boots!"
- Denise Lewis, Buchheit's Footwear Buyer
At HYER boots, we understand that finding the perfect fit isn't just about numbers; it's about how you feel when you put on your boots. Whether you prefer a snug fit for rugged Western adventures or a bit more room for all-day comfort, we have a pair of HYER boots that will match your style and needs.
Remember, when it comes to HYER boots sizing, the perfect fit is a combination of precision and personal preference. Our commitment to delivering boots that exceed your expectations is unwavering, ensuring that every step you take in HYER boots is a step toward Western excellence.
We hope this comprehensive guide to HYER boots sizing helps you find the perfect fit and experience the unmatched comfort and support that our boots offer. But if you're still on the fence, visit any of our retail partners to explore our wide range of cowboy boots, each crafted with the same dedication to quality and craftsmanship that has defined HYER for over a century.