Anatomy of the Cowboy Boot: What Sets HYER Boots Apart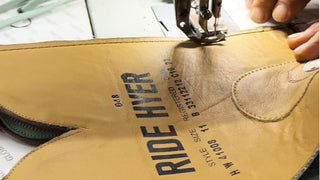 Quality & Craftsmanship: Unveiling the Artistry of HYER Boot Construction
In the realm of boot making, where a pair of cowboy boots can mean the difference between comfort and misery, no detail escapes our expert hands at HYER. From the stitching patterns to the choice of leather, every facet of our cowboy boots bears the unmistakable mark of quality and craftsmanship. In this journey, we invite you to explore the anatomy of the cowboy boot, what sets HYER boots apart from the rest, and why every stitch, every leather choice, and every construction method tells a compelling story of timeless craftsmanship and dedication to excellence.
The Outer Anatomy of HYER Cowboy Boots
The foundation of HYER's commitment to excellence rests on the selection of the finest leathers and the meticulous craftsmanship involved in cowboy boot construction. When you look closer at our cowboy boots, you can't help but notice the difference. We aren't just making boots; we are crafting works of art for your feet.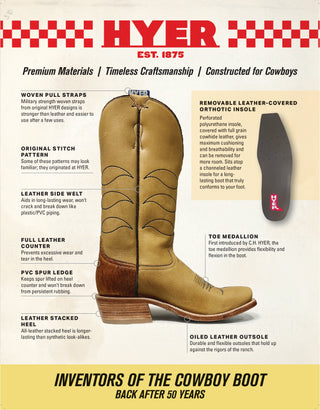 Our cowboy boots are not just functional; they are a living testament to our rich heritage and the artistry of cowboy boot-making. Stitch patterns have evolved from mere functionality to an essential component of a cowboy boot's personality. At HYER, we delved deep into our archives, unearthing original stitch patterns that predate the 1930s. These stitch patterns encapsulate the essence of an era when every stitch was an expression of artisanal pride. When you slide your feet into a pair of HYER cowboy boots, you're not just wearing cowboy boots; you're carrying a piece of history.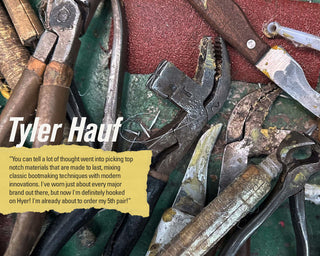 Every stitch pattern in HYER cowboy boots has a story to tell. Each one is drawn from the original catalogs that date back to before the 1930s. When you put on your HYER cowboy boots, you're not just wearing a pair of cowboy boots; you're wearing a piece of history. The stitch patterns are an ode to an era when craftsmanship was celebrated, and each stitch was made with precision and pride.
One of the hallmarks of a quality cowboy boot is our use of leather side piping. This is where luxury and expertise come into play. The process of incorporating leather side piping is longer and requires an unparalleled dedication to the craft. But the result is worth every moment spent. Unlike alternatives made from vinyl or plastic that often crack, our leather side piping endures. This ensures a longer-lasting, superior cowboy boot that exudes an air of luxury.
The leather stacked heel in our cowboy boots is more than just a design choice; it's a hallmark of true craftsmanship. While it might add a touch of weight, it also adds depth and character to the boots. It's a nod to an era when cowboy boots were made with precision and passion. Every step you take in a pair of HYER cowboy boots is a testament to the artistry that went into their creation.
Our cowboy boots feature a oil-infused outsole, setting them apart as unparalleled in terms of longevity. In fact, our outsoles last 40-50% longer than regular outsoles. This unique process involves opening the leather's pores and immersing it in oil for a period of 2-3 weeks. This infusion ensures a longer-lasting and more durable outsole, promising years of dependable performance. Your cowboy boots are made to take you through rugged terrain, and our oil-infused outsoles ensure they stand up to the challenge.
At HYER, we have honed the art of the Good Year Welt construction method. This traditional technique has been embraced for its enduring quality. When you choose HYER cowboy boots, you're investing in more than just a pair of cowboy boots – you're investing in your future. The Good Year Welt ensures that your cowboy boots stand up to the test of time and can be resoled if necessary. It's an insurance policy for your feet.
Our choice to combine brass and wood tacks is more than a design decision. The use of lemonwood, a material that expands and contracts in response to moisture, ensures that the tacks won't work their way out over time. When combined with the oil-impregnated leather, it guarantees that your cowboy boots will endure the harshest conditions. Every element of our cowboy boots is carefully designed and thoughtfully constructed, so you can take on the world with confidence.
While every other aspect of our cowboy boots is crafted from high-quality leather, the one exception is the heel rand. Instead of leather, we use PVC for added durability and resistance to the elements. This choice ensures that your spurs are held securely and for a longer duration. Your cowboy boots are meant to be your trusted companions in all weather, and we've taken every measure to ensure that they perform flawlessly.
The Inner Anatomy of HYER Cowboy Boots
At HYER, we understand the need to marry tradition with modern comfort. While the traditional method is to wear cowboy boots without an insole, our design offers a contemporary twist – a removable insert. This insert is a nod to old-world construction but offers a modern, sneaker-like comfort. Unlike other cowboy boots that place canvas on top of the insole, we position the leather on top. This design choice ensures that you experience the authentic feel of leather underfoot. Tradition and innovation coexist in perfect harmony in HYER cowboy boots.
The heart of our cowboy boots lies in the channel insole, a term often incorrectly referred to as a "channel welt." But what sets it apart from other construction methods? Our channel insole is designed to maximize comfort, ensuring that your cowboy boots move and flex with your feet. When you wear HYER cowboy boots, it's not just your feet that move; it's the cowboy boots that move with you. This flexibility isn't just about comfort; it's also about longevity. Since we utilize a channel welt, you can resole our cowboy boots multiple times, ensuring that your trusty companions stand the test of time. In contrast, rib channels used in other cowboy boots are typically attached with glue, which hampers breathability and resoling potential. Once the canvas of the rib channel tears from the vamp, they can no longer be resoled. With HYER cowboy boots, you're investing in the long term.
When it comes to choosing lining for cowboy boots, many opt for pigskin or even canvas to cut cost. However, at HYER, we uphold the standard of excellence by using calf skin throughout the entire cowboy boot. The difference is striking, offering an unparalleled experience of comfort and quality that stands the test of time. Your feet deserve nothing but the best, and that's what HYER delivers.
Discover More with HYER
As we've journeyed through the anatomy of the cowboy boot, it's time for you to discover HYER cowboy boots like never before. Step into a realm where timeless design meets modern comfort. Whether you're a cowboy boot enthusiast or someone who demands excellence in every step, it's all about embracing the high standard we offer. From the impeccable stitch patterns that echo history to the channel insole that guarantees unparalleled comfort, we've got it all.
Now, it's your turn to wear the story. Each step you take is a testament to our commitment to quality and craftsmanship. Whether you're conquering the great outdoors or stepping into your favorite urban haunts, HYER cowboy boots are more than just footwear; they are an emblem of enduring excellence. Explore our collection and discover what it means to experience life one step at a time.
It's more than a pair of cowboy boots; it's a way of life. Welcome to the world of HYER. Your journey begins here.