The Science Behind HYER's Textile Pull Straps
When it comes to cowboy boots, one name stands out as a pioneer and innovator in the industry: HYER. For over a century, HYER has been synonymous with quality, comfort, and durability. But did you know that HYER is not just any cowboy boot brand? It's the inventor of the cowboy boot itself.
The Polyester Pull Straps: A Modern Twist on Tradition
One of the innovations that sets HYER apart is its use of polyester pull straps. These straps, unlike the traditional leather ones, are designed for strength and longevity. The use of polyester pull straps reflects HYER's commitment to innovation while staying true to our roots.
Early research into the relaunch of our cowboy boots uncovered collectors and old retailers who remember the distinctive polyester pull straps from vintage HYER boots. These polyester pull straps are not just functional; they are an integral part of our history, symbolizing our commitment to authentic craftsmanship.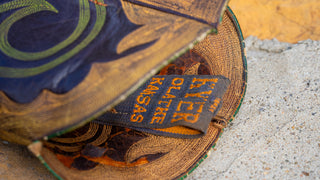 "I was excited to see the throwback polyester pull straps in the HYER Boots for three reasons, one it reminds me of the boots of old and something so simple that pays homage to the history of cowboy boots. Two, those straps offer a differentiation factor in a sea of likeness from many other manufacturers, and finally although the polyester straps are a little more difficult for the initial try on, once the strap has softened and been used a few times, they truly serve their purpose."
- Michael Kahn, Dollar Western Wear
One characteristic of polyester pull straps is that they become easier to use as they break in. At first, they may be slightly stiff, making it a bit more challenging to get your fingers in. But after a few wears, you'll notice a significant improvement in ease of use.
When it comes to our military grade polyester pull straps, their remarkable strength is not to be underestimated, as it's a testament to HYER's innovation in boot construction. In fact, HYER Boot Company played a pivotal role in the evolution of pull straps.
Elevate Your Style, Ladies!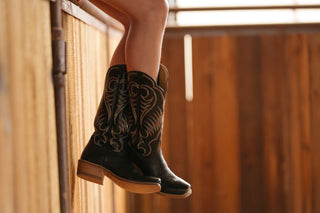 Ladies, we've got something extra special for you. While the durability of polyester pull straps remains a hallmark, we know that style matters too. That's why we've designed our boots to offer you a unique fashion option. If you're looking to make a statement, simply tuck those sleek polyester pull straps inside your boots. It's a small yet distinctive touch that can elevate your Western look and add a touch of sophistication to your ensemble. So go ahead, explore the fashion possibilities with HYER's versatile polyester pull straps.
An Ode to Heritage
Even though leather pull straps are expected (and more affordable to produce) Zach heard from so many customers that they hoped he would keep the fabric pull straps, once synonymous with the HYER brand name. We thought it was an important part of our DNA to retain the polyester pull straps for which our customer most remembers us for our initial launch.
HYER Boot Company isn't dismissing leather pull straps; in fact, we played a significant role in their evolution.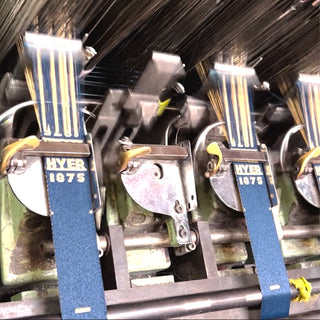 "It was a tough decision on whether we launch with fabric or leather pull straps. What is interesting is that my great-great-grandfather actually invented the forked construction that made leather pull straps possible, so both constructions are true to our DNA. In the end, so many people said "I hope you keep the fabric pull straps" that I decided to begin the way my great-great-grandfather did. I expect at some point, we'll have both types in our boot line."
- Zach Lawless
Today, as we reintroduce polyester pull straps, we do so not to knock leather pull straps but to pay homage to our heritage and offer our customers the very best in terms of strength and durability. During a pull test, polyester demonstrates a tensile strength of approximately 12,400 psi, while cowhide leather comes in at around 2,000 psi. That's roughly six times the strength, ensuring that your boots can withstand the test of time and the rigors of the Western lifestyle.
Experience the HYER Difference
At HYER, our commitment to innovation goes hand in hand with preserving our legacy. We don't just make cowboy boots; we craft a piece of history that you can wear with pride. With a focus on comfort, durability, and innovation, HYER boots are some of the most comfortable on the market, built to last, and equipped with polyester pull straps for added strength.
Don't miss the opportunity to own a piece of American history and experience the comfort and durability that have defined HYER for over a century. Visit our website and ride HYER today.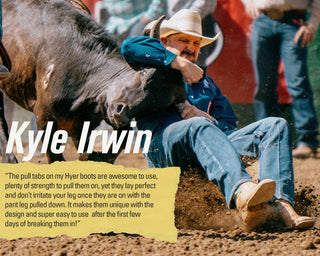 Explore the wide range of cowboy boots designed to cater to ranchers, cowboys, rodeo athletes, horsemen, and anyone who embraces the Western lifestyle. HYER is not just a brand; it's a legacy, and it's waiting for you to be a part of it.